Apache x Houston
Isabel W
General Information
Name

Isabel W

Pedigree

Apache x Houston

Sex

Mare

Year of birth

2013

Color

Black bay

Height

1.72m

Studbook

KWPN

Predicates

voorl. keur, PROK, D-OC
Isabel W
Elegant mare by the Grand Prix stallion and top progenitor Apache that unfortunately passed away too soon. Isabel W was declared ster & preliminary keur at the mare inspections of Kootwijkerbroek while having a foal at foot. She obtained 75 points for conformation and 80 points for movement. The KWPN inspectors commented the following: "This daughter of Apache is an appealing mare with a beautiful presence, sound foundation and a beautiful front and a very well-developed wither and shoulder section. The walk is active with a good overstep and rhythm, in trot she displays excellent use and flexion in the hind leg, especially positive is her cadence and light-footedness. Her canter has a pure beat, is effortless, shows a good balance and a nice jump."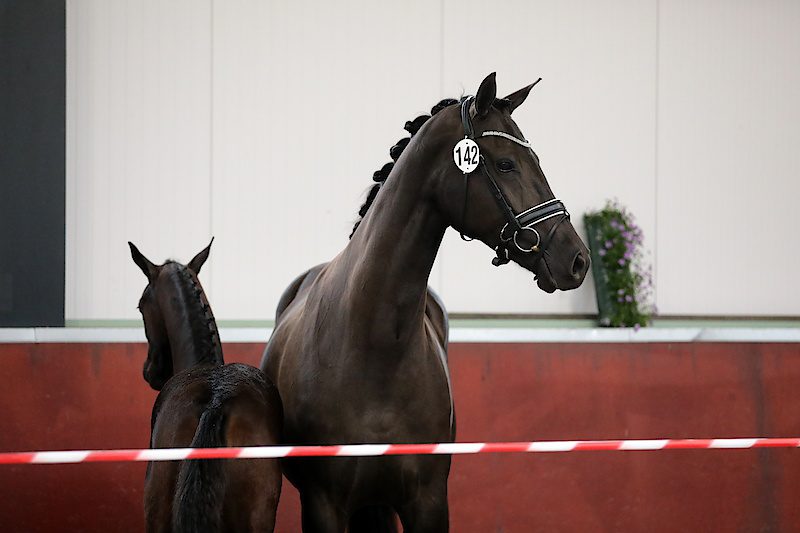 Paarl, Koraal and Hanieta
Dam Paarl is an elite EPTM-dr PROK preferent mare by the renowned keur stallion Houston. Paarl produced two elite mares and three preliminary keur mares, which means that all her daughter have proven their abilities at the mare inspections. Her son Fado (s.Vivaldi) was active at Z2-level before being campaigned at the highest level of para dressage – he was selected for the Paralympic Games of Rio de Janeiro with Manon Claeys. Daughter Havanna W (s.Apache) competes at M2-level dressage and Koraal W (s.Desperado) is currently taking the ZZ-Zwaar classes by storm with Femke Voet, the pair won a silver medal at the 2019 National Championships at L-level. Paarl is also the granddam of Fermium (s.Andretti) that jumps 1.40m with Pascalle Lienesch. Granddam Koraal ster preferent adds more jumper blood to the line via her sire Naturel, an offspring of the popular thoroughbred stallion Lucky Boy xx. Koraal's offspring Zaniet (s.Solitair) was active in the Grand Prix and she is furthermore the granddam of Eclipse (s.Carambole, s.1.50m jumper), Elieta (s.Jazz, ZZ-Zwaar) and Vigo (s.Rousseau, Z1-dressage). We then find the ZZ-Licht ster mare Hanieta, a daughter of the thoroughbred All Wins xx. In contrast to her dam Lanieta ster preferent prestatie (s.Huzaar) she was only used for breeding on a limited basis and was, like her half-siblings, successful in sport. Thanks to her sire, this mare made a significant contribution of thoroughbred blood to this lineage, which results in a relatively high percentage of blood for Isabel W (44.13%).
Lady Reveil-line, lineage 27 family 23
Isabel W is the fifth mare in a row that obtained a ster or keur predicate at the mare inspections. The mares that came before her all have an additional predicate, either for their accomplishments in sport (sport predicate) or for the achievements of their offspring (prestatie or preferent). The Lady Reveil-line is a extensive line that traces back to the kroon preferent Lady Reveil van Wittestein. This lineage is at the basis of numerous sport horses and approved stallions. The mareline 027 has always ranked high on the Family Rankings dressage, in 2008 it even reached the top position.
Offspring:
2021: Rhimpha Eickenrode (s.Hexagon's Kaygo). This filly was sold to ambitious young rider.
2023: Thaleia Eickenrode (s.Vitalis). This filly was selected for Foal Auction Prinsjesdag September 19.