Silverstone x Chellano Z
Annastasia
General Information
Name

Annastasia

Pedigree

Silverstone x Chellano Z

Sex

Mare

Year of birth

2005

Color

Grey

Height

1.72m

Predicates

1.20m PROK
Annastasia
An appealing, large grey mare out of one of the best and most famous jumper lineage of the Netherlands: the one of Larthago. This dam line has produced a remarkable list of international showjumpers and approved stallions. To our great regret, this mare passed away in 2022.
Dam Caroline Z
Dam Caroline Z adds the valuable blood of Chellano Z, whose stamp is highly visible in Annastasia. Caroline Z foaled the in Oldenburg approved international 1.45m jumper stallion Castellani Z of Christian Ahlman. The foals out of this lineage are in demand at the auctions and every year, offspring find their way to the most prestigious auctions in the Netherlands and Belgium. Caroline Z produced Sandro Girl Z, that revenued 64.000 euros at Prinsjesdag, in 2015 Zappa Z exchanged hands for 20.000 euros at the foal auction of Zangersheide, Comme Ce La Z was sold for 34.000 euros at the 2017 Foal Auction Borculo and in 2019 that same auction saw the gavel fall at 35.000 euros for Tavi Z.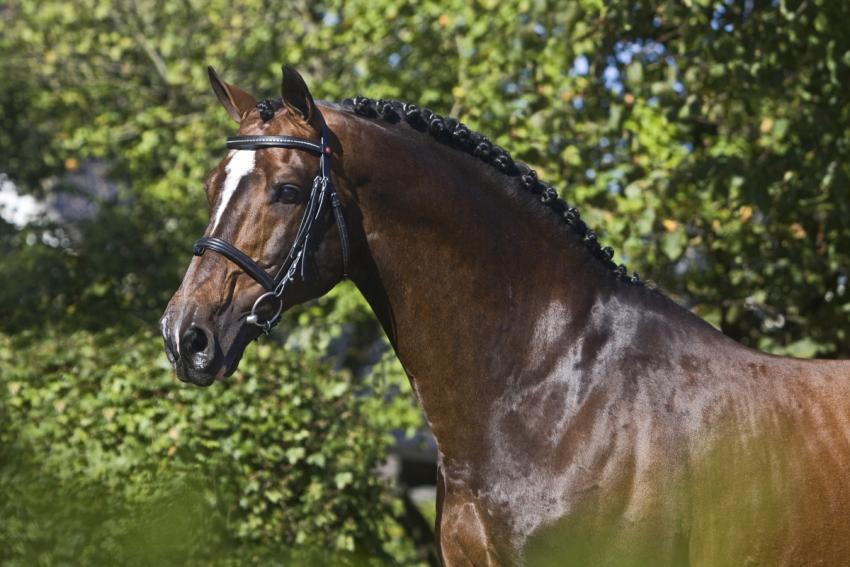 Larthago
Granddam is the legendary Larthago, that is worldwide perceived as one of the best European broodmares. She jumped at the highest levels herself with Mathijs van Asten and passes on her jumping qualities to her offspring. Five of her sons were approved, Piergiorgio Bucci's 1.60m ace Casago, Cevin Z that acted at 1.50m level, Shane Sweetnam's 1.45m stallion Casago II, Dimitri Z that is campaigned in the 1.50m classes by Kim Kristensen and last but not least, the renowned preferent stallion Harley VDL that competed at 1.55m level with Jessica Kürten. In addition, Larthago gave birth to a range of sport horses, Hopes are High Z and Soren Z also reached the 1.60m Grand Prix. She is furthermore at the basis of numerous (inter)national sport horses and approved stallions, including the at multiple studbooks approved Catona TN that is successful with Kars Bonhof.
Offspring
2016: Luscinia Eickenrode (v.Detroit VDL), active at 1.30m level in Ireland with Suzanne Posnett
2019: Optivus Eickenrode (v.Jardonnay VDL), licensed in the UK
2021: Regalia Eickenrode (v.Zirocco Blue VDL), this filly stays with us for future breeding and sport