Cardento x Heartbreaker
Kalorata Eickenrode
General Information
Name

Kalorata Eickenrode

Pedigree

Cardento x Heartbreaker

Sex

Mare

Year of birth

2015

Color

Bay

Height

1.61m

Studbook

KWPN
Kalorata Eickenrode
Kalorata Eickenrode was born the 27th of May 2015. She is a daughter of the Olympic stallion and top progenitor Cardento and descends from the Holsteiner line 206. As an eager offspring of our Heartbreaker-mare Heartbeat Z she received the name Kalorata, Latin for hotheaded, fiery. Her half-brother Jignipes Eickenrode (s.Zirocco Blue VDL) is a young talent of the legendary John Whitaker and the pair is now showing at international 1.50m level. Half-sister Ignigena Eickenrode (s.Eldorado vd Zeshoek) made her 1.40m debut with Sophie Paxton.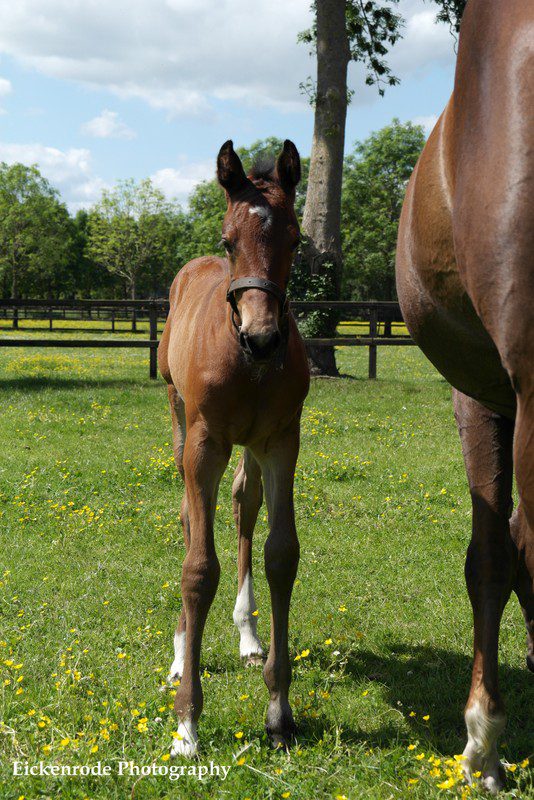 Dam Heartbeat Z
A half-sister of Heartbeat Z, Oliva Z was 6th at the foal inspection in Zangersheide and was sold at the Zangersheide auction to Italy, where she competed at 1.45m level. In 2008, Oliva Z was ranked 7th in the Z-ranking. Oliva Z was owned by FEI rider and international horse dealer Davide Kainich and campaigned by international showjumper Lucia Vizzini (partner Philippe Le Jeune). The other half-sister of Heartbeat Z is Butterfly A.M. (s.Concorde), she produced the 1.45m Grand Prix horses Hannibal A.M. (s.Airport A.M.) and La Gatta A.M. (s.Stolzenburg), both ridden by Michele Facchin (ITA).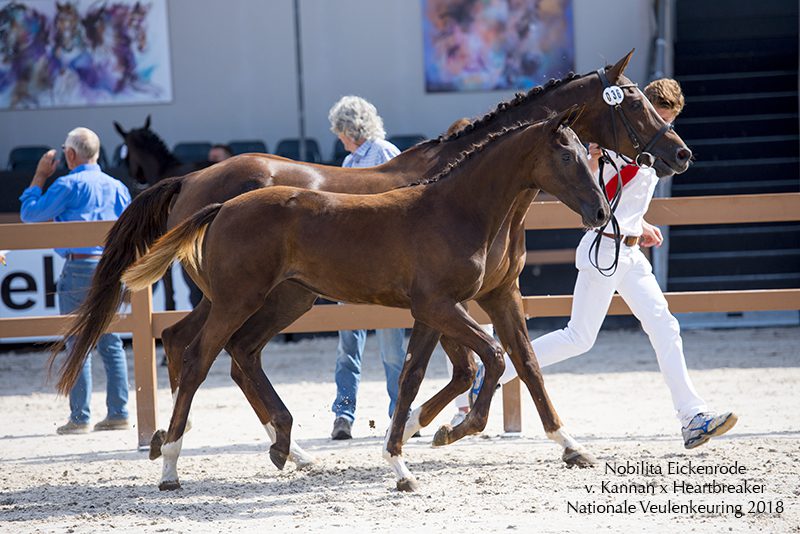 Thia: Lord Z, Atlantic VDL, In Style and Anyway 33
The third mare Thia (sire Calando I) is the dam of the approved stallion Lord Calandus and the world-renowned approved stallion Lord Z. The latter competed at Grand Prix level with John Whitaker and his offspring are equally impressive in sport. He is also increasingly proving his value on the maternal side. Lord Z convinces through his own performance, his bloodlines and offspring and is therefore approved at all the major European studbooks.
Thia is also the dam of Diana (s.Lord), who paired to Acord II produced three 1.60m horses: Anyway 33, In Style and Atlantic VDL. In Style was an acclaimed addition to jumping sport in Canada. Together with his rider Ian Miller he wrote history by achieving a crucial clear round at the right time and the right place, securing the silver team medal for Canada at the Olympic Games of Beijing. A year prior to that, the pair placed individual 4th at the Pan American Games in Rio de Janeiro and also contributed to team silver then. Other highlights in their career were winning three World Cup qualifications, the victory in the $200,000 Grand Prix of Spruce Meadows and winning the national Canadian championships twice. Atlantic VDL was approved in Holstein and Zangersheide and stood at stud at VDL Stud. Atlantic VDL was crowned Bundeschampionat of the 6-year-olds, Dutch champion Z-level jumping with Urich Kirchoff and was active at the highest level with Wout-Jan van der Schans and Jur Vrieling. In his career, he won the Grand Prix of Frankfurt, placed second in the GP of Villach and Gera, was second in the Lanaken Sires of the World and placed 7th in the World Cup in Vigo.
Offspring
2019 Ocellus Eickenrode (s.Erco van 't Roosakker)
2022 Specula Eickenrode (s.Grandorado TN), sold at HorseSales.auction
2023 Tagos Eickenrode (s.Eldorado vd Zeshoek) selected for Elite Foal Auction Borculo September 15